Giuseppe Mannino
Research fellow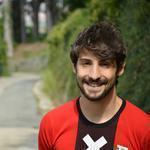 Contacts
0116706362
3807546923
n/a
Via G. Quarello 15/A
At
Department of Life Sciences and Systems Biology
Dipartimento di Scienze della Vita e Biologia dei Sistemi
Laurea Magistrale in Medicina e Chirurgia - sede di Torino
Selected publications
Mannino, Giuseppe, et al. "Effects of Different Microbial Inocula on Tomato Tolerance to Water Deficit." Agronomy 10.2 (2020): 170.
Lauria, Antonino, et al. "DRUDIT: web-based DRUgs DIscovery Tools to design small molecules as modulators of biological targets." Bioinformatics 36.5 (2020): 1562-1569.
Farina, Vittorio, et al. "Physicochemical, Nutraceutical and Sensory Traits of Six Papaya (Carica papaya L.) Cultivars Grown in Greenhouse Conditions in the Mediterranean Climate." Agronomy 10.4 (2020): 501.
Mannino, Giuseppe, et al. "Vaccinium macrocarpon (Cranberry)-Based Dietary Supplements: Variation in Mass Uniformity, Proanthocyanidin Dosage and Anthocyanin Profile Demonstrates Quality Control Standard Needed." Nutrients 12.4 (2020): 992.
Vigliante, Ivano, Giuseppe Mannino, and Massimo E. Maffei. "OxiCyan®, a phytocomplex of bilberry (Vaccinium myrtillus) and spirulina (Spirulina platensis), exerts both direct antioxidant activity and modulation of ARE/Nrf2 pathway in HepG2 cells." Journal of Functional Foods 61 (2019): 103508.
Vigliante, Ivano, Giuseppe Mannino, and Massimo E. Maffei. "Chemical Characterization and DNA Fingerprinting of Griffonia simplicifolia Baill." Molecules 24.6 (2019): 1032.
Mannino, Giuseppe, et al. "Melatonin reduces inflammatory response in human intestinal epithelial cells stimulated by interleukin‐1β." Journal of pineal research 67.3 (2019): e12598.
Dall'Osto, Luca, et al. "Combined resistance to oxidative stress and reduced antenna size enhance light-to-biomass conversion efficiency in Chlorella vulgaris cultures." Biotechnology for biofuels 12.1 (2019): 221.
Mannino, Giuseppe, et al. "Phytochemical profile and antioxidative properties of Plinia trunciflora fruits: A new source of nutraceuticals." Food chemistry 307 (2020): 125515.
Mannino, Giuseppe, et al. "Origanum vulgare terpenoids modulate Myrmica scabrinodis brain biogenic amines and ant behaviour." PloS one 13.12 (2018).
Mannino, Giuseppe, Carla Gentile, and Massimo E. Maffei. "Chemical partitioning and DNA fingerprinting of some pistachio (Pistacia vera L.) varieties of different geographical origin." Phytochemistry 160 (2019): 40-47.
Gentile, Carla, et al. "Food quality and nutraceutical value of nine cultivars of mango (Mangifera indica L.) fruits grown in Mediterranean subtropical environment." Food chemistry 277 (2019): 471-479.
Mannino, Giuseppe, Andrea Occhipinti, and Massimo E. Maffei. "Quantitative Determination of 3-O-Acetyl-11-Keto-βBoswellic Acid (AKBA) and Other Boswellic Acids in Boswellia sacra Flueck (syn. B. carteri Birdw) and Boswellia serrata Roxb." Molecules 21.10 (2016): 1329.
Research topics
He got the master degree in Pharmaceutical Chemistry and Technology at the University of Palermo in 2015; he decided to continue his studies starting a PhD course in Pharmaceutical and Biomolecular Sciences at the University of Torino. During his Masters Thesis, he experienced various techniques on cell coltures and he spent a year at the University of Granada where he refined his skills in analytical techniques. Main field of his research is currently chemical analyses and extraction techniques for quality control of food and dietary supplements, carried out with gas and liquid chromatography combined with mass spectrometry.
Activities in agenda