Gianfranco Gilardi
Professor
SSD: BIO/10 - biochemistry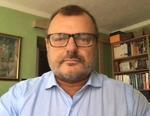 Contacts
0116704593
0116704643
Dipartimento di Scienze della Vita e Biologia dei Sistemi
Via Accademia Albertina 13
10123 Torino
At
Department of Life Sciences and Systems Biology
Dipartimento di Scienze della Vita e Biologia dei Sistemi
Corso di laurea in Chimica e Tecnologie Chimiche
Corso di laurea in Scienze Biologiche (L-13)
Corso di Laurea in Scienze e tecnologie per la montagna - MONTES
Corso di laurea magistrale in Biotecnologie Industriali
Corso di Laurea Magistrale in Scienze dell'Educazione Motoria e delle Attività Adattate (LM-67)
Corso di studi in Chimica
Scienze delle Attività Motorie e Sportive L-22 - Asti
Dottorato in Scienze Farmaceutiche e Biomolecolari
Curriculum vitae
Curriculum Vitae (0.5 MB)
Research topics
Coordinatore di un gruppo di ricerca in Ingegneria Proteica e Biosensoristica attrezzato con strumenti di avanguardia, le sue linee di ricerca sono centrate su proteine ed enzimi ossido-reduttasici da organismi procarioti ed eucarioti al fine di studiare il trasferimento elettronico nelle proteine, processo fondamentale per la respirazione cellulare nei mitocondri e la fotosintesi nei cloroplasti. Particolare attenzione è anche volta a sistemi enzimatici redox mono-ossigenasici della fase 1 del metabolismo dei farmaci e delle reazioni metaboliche che portano alla sintesi di vitamine e ormoni sessuali, coinvolgendo citocromi P450, aromatasi, flavine monossigenasi.
Lo studio della biocatalisi e del trasferimento elettronico è perseguito usando sistemi mono-ossigenasici e idrogenasici batterici con ricadute biotecnologiche nella biosensoristica, biorisanamento e produzione di bio-idrogeno.
Uno degli aspetti applicativi è orientato verso l'immobilizzazione di enzimi sia batterici che umani su superfici di elettrodi per la creazione di piattaforme tecnologiche volte a sfruttare la biocatalisi con fini biosintetici e di studio di metabolismo di farmaci, includendo aspetti di farmacogenetica e polimorfismo genetico legato alla diversa risposta individuale all'azione dei farmaci.
Questi ultimi aspetti sono stati brevettati e hanno costituito il business plan della spin-off NanoBioDesign Ltd dell'Imperial College di Londra di cui è stato il fondatore e direttore scientifico negli anni 2002-2008.
Negli ultimi 15 anni ha ottenuto finanziamenti da enti nazionali e internazionali per un totale di circa 5.5 milioni di euro. Autore di più di 100 articoli su riviste internazionali, brevetti, editoriali e capitoli di libri, è stato invitato a relazionare a più di 44 congressi internationali e workshops. Ha organizzato 6 congressi internazionali, è stato presidente di 7 sessioni di congressi internazionali. I risultati raggiunti hanno portato alla chiamata per chiara fama presso l'Università di Torino nel 2002 e alla nomina di Fellow della Royal Society of Chemistry di Londra nel 2003.
Ha servito quale referee per il BBSRC Committees Biochemistry and Cell Biology, Biomolecular Sciences, Engineering Biological Systems, EPSRC – Interface chemistry-biology del Regno Unito, il NWO - Netherlands Organisation for Scientific Research (Olanda), programmi quadro dell'EU a partire dal FP4, il Human Frontier Science Programme, il European Research Council, il CNR, l'Agenzia Spaziale Italiana e la Compagnia di San Paolo. E' stato referee di manoscritti per riviste internazionali quali il Journal of the American Chemical Society, Analytical Chemistry, Journal of Biological Inorganic Chemistry, Journal of Physical Chemistry, Angewandte Chemie, Biophysical Journal, Biochemistry, Biosensors and Bioelectronics. E' Editor-in-Chief della rivista Americana Biotechnology and Applied Biochemistry, è stato consulente scientico presso la Pfizer UK e la NanoBioDesign Ltd (London).
Research groups
Research projects
Office hours
Previo appuntamento telefonico o via mail