Prof. Marco Gamba
Associate Professor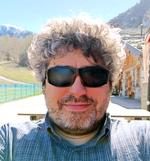 Contacts
0116704560
0116704508
Dipartimento di Scienze della VIta e Biologia dei Sistemi
via Accademia Albertina, 13
10123 TORINO
At
Department of Life Sciences and Systems Biology
Dipartimento di Scienze della Vita e Biologia dei Sistemi
Corso di Laurea in Scienze Biologiche (L-13)
Scienze Naturali, Scienze dei Sistemi Naturali,
Evoluzione del comportamento animale e dell'uomo
PhD in Biology and Applied Biotechnologies
Research topics
Marco Gamba received both his M.A. in Biology (1997) and his Ph.D. in Evolutionary Biology And Conservation Of Biodiversity (2006) from the University of Torino, Italy. His dissertation was a comparative study of the evolution of vocal communication in
lemurs. He has worked as an research collaborator in Zoology (but also in Anthropology and Agricultural Science) at the University of Torino, where he studied cranial morphology, animal communication networks and was involved cooperation for capacity building and sustainable development in developing countries. In 2004, he worked as a Marie Curie visiting researcher at the University of Sussex developing acoustic analyses of animal vocalizations.
Since 2004, he had a strong involvement in EU co-financed programs in Education, Research and Cooperation with Developing Countries. In 2011 he was appointed as tenured research scientist in Zoology at the University of Torino. He has spent many time doing research on lemur behaviour and communication in Madagascar during campaigns in 2004, 2005, 2006, 2008, 2009 and 2010, but also investigated other primate species in South Africa (2007), in Comoros (2010), in China (2012, 2014), in Vietnam (2014). His current research topics include (1) the study of the evolution, structure and function of animal acoustic signals using a combination of morpho-anatomical investigations, acoustic analyses and computational modelling; (2) the quantitative study of animal and human behavior. He has taught courses in Ethology, Evolution of Behaviour and Communication, Zoology, and Methods in Biodiversity Conservation at the BA, MA and graduate levels (in Italian, English and French) at the University of Torino, at the University of Mahajanga and at the University of Comoros, and was invited in other universities for seminars and lectures (including the Consorzio Universitario Mediterraneo Orientale, the University of Grenoble, the Riken Brain Science in Tokyo).
Research groups
Office hours
Previo appuntamento.